We offer malpractice coverage for each case.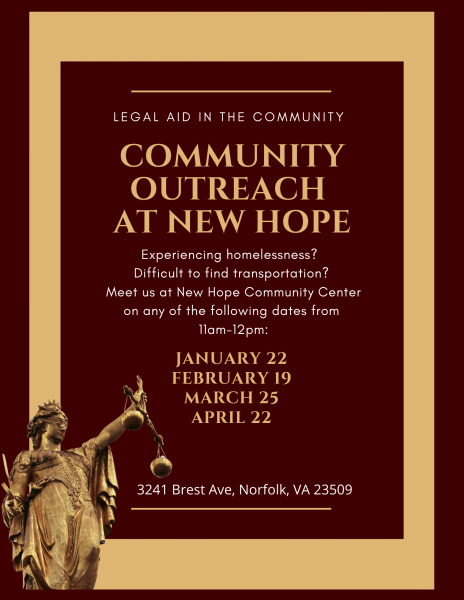 Free CLE Opportunity, Bankruptcy By-pass Clinic:
We need attorney volunteers for this Clinic which is a one (1) hour training (with CLE credit) followed by a one (1) hour advice clinic. During the training, volunteer attorneys will be provided the necessary information on why an individual is collection proof and why the individual may not need to file for bankruptcy. Immediately after the training, volunteer attorneys will call individuals who have been scheduled for a telephone consultation. During the consultation, the attorney will provide advice on why the client is collection proof and what the client can do to stop debt collectors from calling.  No experience needed.
To register to attend a Clinic, please send an email including your name, address, telephone number, and  Virginia State bar number to PAILAWYERS@laseva.org.  No prior experience needed.
If you have questions about the Clinic, you can contact Tameeka M. Williams, Director of Pro Bono & Private Attorney Involvement, at pailawyers@laseva.org or  757-627-5423, extension 137.  Potential clients must apply for our services by calling (757) 827-5078.
Support for this program is provided by American College of Bankruptcy Foundation.
Upcoming  Clinic Dates:
All clinics run from 4-6 p.m.
February 24th, LASEV Norfolk Office, 125 St. Paul's Blvd., Ste. 400, Norfolk, VA 23510.
March 30th, LASEV Norfolk Office, 125 St. Paul's Blvd., Ste. 400, Norfolk, VA 23510.
Uncontested Divorces:
We are seeking attorneys who have experience handling uncontested divorces in the following courts: Norfolk, Portsmouth, Virginia Beach, Chesapeake, Hampton, Newport News, Williamsburg/York, Middlesex, and the courts on the Eastern Shore.
If you are willing to take a case pro bono or would like more information at this time, please email pailawyers@laseva.org.